Are you wondering how to connect a microphone to a speaker? If you are an audiophile or an amateur music enthusiast, this question should come to your mind. But don't worry much. I've come up with detailed guidelines on the topic and beyond. So, let's get started, buddy!
A Quick Answer
There are several ways of connecting the microphone to a speaker. The easier way is to connect microphones with a built-in-amp speaker.
You have to attach the XLR cable to the microphone and the speaker.
Then toggle the speaker switch to the mic level signal.
At last, turn on the speaker and check the sound level. Change the volume when necessary.
Well, this method might not work all the time. Continue reading to learn about other methods of connecting microphones to speakers and features of connecting Bluetooth microphones. Also, discover how to correct choose a perfect cable.
Powered Speakers vs Passive Speakers
You can use both a powered speaker and a passive speaker to connect a microphone. But you might wonder what's the difference between the two.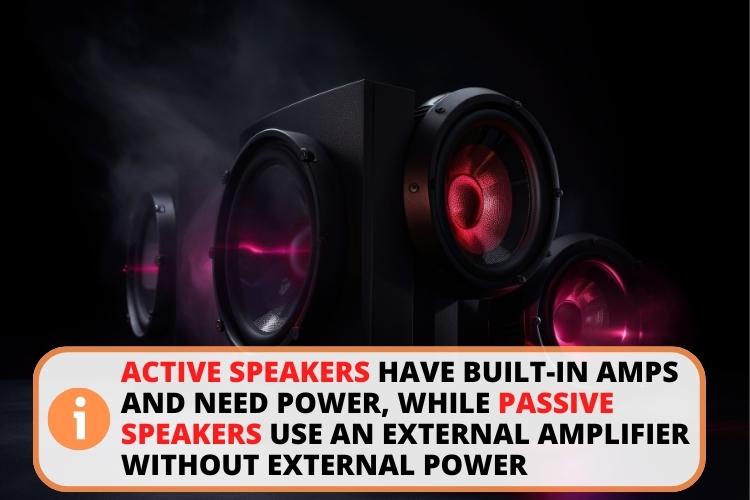 An active speaker (also known as a powered speaker)doesn't require any external amplifier. It can boost up the mic level signal by itself as it contains built-in-amps. However, active speakers require a power source to work with the mic output signal, be it phantom power or DC bias voltage.
A passive speaker, on the contrary, does not require any external power source for its operation. But it does need an amplifier to reach the microphone line level signal.
Active speakers can connect to a microphone directly, while passive speakers don't offer such an advantage.
Well, let me sum up the differences for you in a chart.
| | | |
| --- | --- | --- |
| | | |
| | | |
| Power Source Requirement: | | |
| Direct Microphone connection: | | |
Active Microphones vs Passive Microphones
We all know that there are two types of microphones mainly: passive and active microphones. Passive and active microphones are pretty opposite to each other and have notable differences. The main differences are as follows: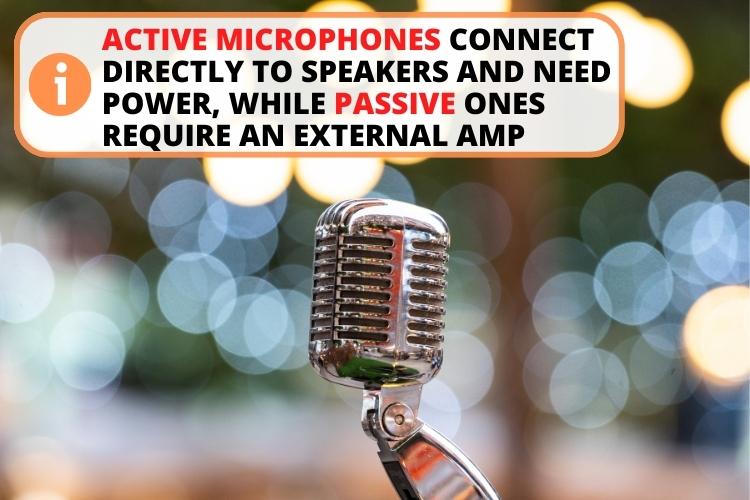 Actives microphones can be directly connected to speakers. But you need a powered mixer or external amp to connect with a speaker for passive microphones.
While active mics can work without an external amp, passive microphones require an external amp.
Active mics need an external power supply or internal batteries. Whereas passive mics have their own power supply unit.
All condenser microphones are considered to be active, while all coil dynamic and ribbon dynamic microphones are considered to be passive.
The condenser microphones and a dynamic mic both have different functions of their own. Let me tell you about their utility in brief.
| | | |
| --- | --- | --- |
| | | |
| | Best mic inputs for studio sound | Best microphone input for live performance |
| | | |
What is a Bluetooth Microphone?
Unlike traditional microphones, Bluetooth microphones use a wireless connection to connect with speakers. Nor do you need amps or a power supply to use a Bluetooth speaker. However, the mics require regular battery changes and proper syncing with the speaker.
How to Connect Bluetooth Microphones to Bluetooth Speakers?
Bluetooth microphones are pretty easy to connect, as they don't need any unwanted cables to sort out. Moreover, you don't need a separate power supply or other audio equipment for these mics.
Here's how you can connect:
You need a smartphone or a laptop device to pair the mic and the speaker.
In the beginning, you must install Audacity or a similar app on your device.
Now open the app and search for devices to pair.
Once you find the speaker and the mic, pair them.
Then check if it works or not.
If you still fail to connect, watch out this video:
How to Connect a Microphone to a Speaker Directly?
So what is the process of connecting a speaker to a microphone directly? Well, that's pretty easy. Let me explain.
First of all, take an active or powered speaker. If you take a passive one, ensure you have a separate powered mixer or power amplifier ready.
Now you must have a speaker with microphone inputs. The word "mic" is usually written on the top so that you get it right.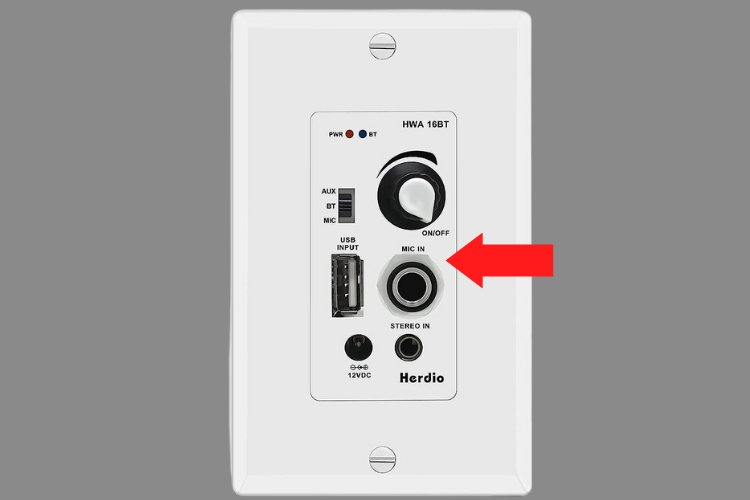 Now connect one end of the XLR cable to the mic input and another to the amplifier.
A mixer might also be needed in some cases when the speaker lacks mic inputs.
Other Ways to Connect Microphone to a Speaker
If you connect your microphone directly to the speaker, sometimes it doesn't work. In a few cases, the active loudspeakers and, most of the time, the passive ones require proper power to produce mic-level signals. Without further ado, let me explain the two easiest ways to connect a microphone with a speaker properly.
1. Connecting Microphones With an External Amplifier
Let's see how to connect speakers and microphones with an external amplifier.
As a first step, take the power amplifier and try to connect with the speaker.
Now connect the RCA port with one end of the amplifier.
It's time you attach both ends of the cable to the speaker input.
To check the connection, turn on the microphone and the amplifier together.
If everything is okay, you shall find a satisfactory mic-level signal. If not, then use the mic input sensitivity switch to control the sound level.
2. Connecting Microphones With a Built-In Amp Speaker
Let's find out about this method now.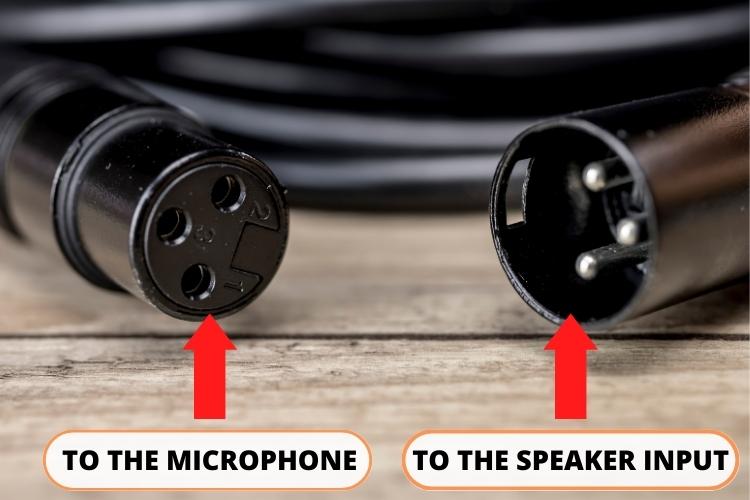 Take the microphone and the XLR cable.
Then plug the cable into the one end of the mic.
Attach the other end of the cable to the speaker input.
Turn on the speaker and check the sound quality.
You can use the volume knob to control the sound easily.
But which cable should you use for the connection? Continue reading to find out that.
Which Cable is Best for Microphones?
There are various types of cable in the market today that might confuse you. So let me help you a bit. You need to choose any of the following cables as per the speaker input connector.
1. Jack Input Connector
You might have seen a lot of 6.3 mm jack input around speakers, as they are pretty common. You can connect a microphone directly with an XLR input in such cases. However, note that you might need a Female XLR to male TRS adapter. If this doesn't work:
You might need a TRS cable with two stripes on the jack plug.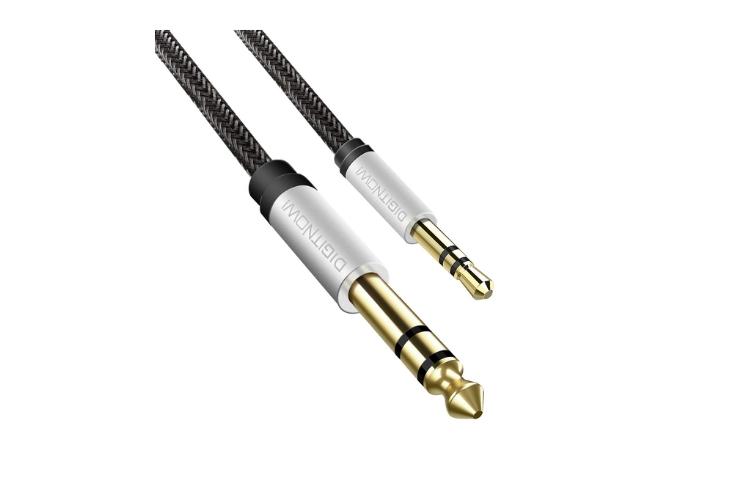 2. XLR Cable
Most speakers have an XLR connector of three pins. I guess your speaker is no different.
So, you need a three-pin XLR cable for your microphone. Note that the cable must have three pins to connect and not three holes.
If the microphone has a jack plug with two stripes, you should go for a Female TRS to XLR adapter.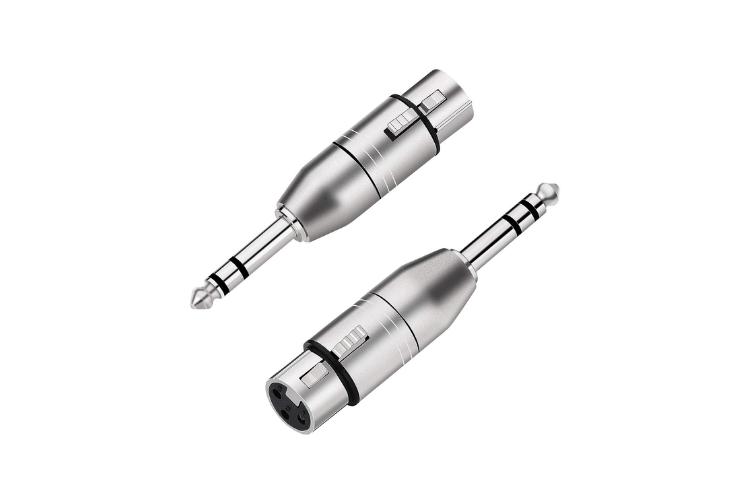 3 Jack XLR Combo Input
There are a few speakers that support both jack input and XLR input. Any cable would fit if you got a speaker like this combo input. So you don't have to worry about your microphone cable, then.
4. Mini-Jack Input Microphones
Mini jack plugs or commonly known as 3.5mm jacks are pretty common with smartphones or headphone sets. If your microphone has one of such mini jacks, then you should get the following adapters.
If the microphone has mini jack input with TRRS (three rings), it won't connect to any speaker.
But if the mini jack comes with TS (single ring), then you must collect a TS adapter.
And what if the jack comes with double rings (TRS)? Then you should get a TRS cable.
5. Other Mic Inputs
If any of the adapters and cables don't suit your microphone, then it might be too tough to find one. I suggest you find the perfect cable yourself. You can find a long list here.
When Should I Use a Powered Mixer?
Powered mixers have built-in amplifiers to boost up mic-level signals. But when to use a mixer? Let's find out.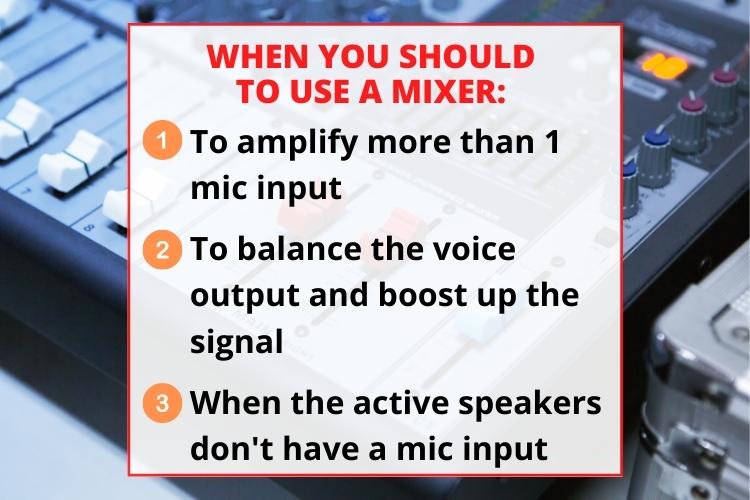 When you have to amplify more than one microphone input.
When you require to balance the voice output and boost up the signal.
And when the active speakers don't have a mic input.
Note that you can also use a digital mixer to get the same result.
Check the Microphone and Sound Quality
If you have set everything straight, now is the time to check the mic-level signal. First of all, turn on the mic and the amplifier. If your speaker lacks a phantom power supply, then you have to connect it to external power units.
Note: The phantom power should be 48V.
Next, you have to check the amplifier's sound quality and make the settings straight. There is a mic input sensitivity switch to control and change the sound.
When you see the sound too much or too low, the volume button will help you to fix this.
If the sound seems messed up, then turn off the sensitivity switch and adjust everything again.
Frequently Asked Questions
Can You Connect a Microphone to a Bluetooth Speaker?
Yes, you can easily do that. You need a Bluetooth transmitter device and proper cable adapters to pair with a Bluetooth speaker.
Can We Connect Mic to Aux in Speaker?
Yes, you can connect the Mic to the Auxiliary speaker level signal. However, you need a microphone preamplifier for the job.
How do You Hook up a Microphone to a Speaker?
To hook up a microphone to a speaker, take a compatible XLR cable. Then attach one end to a speaker and the other end to the microphone. You might need an adapter if the cable doesn't fit both.
Conclusion
So now you know how to connect microphones with speakers. You should try to use a built-in speaker with microphones for better performance. Using an extra amp is also good if not the best choice. However, you have to make sure the mic cable is compatible with the speaker in both cases.
But the best way is to use Bluetooth speakers with Bluetooth microphones, especially if you are tech-savvy. Bluetooth microphones don't need cables; it is comfy to control them with smartphones. You can choose any of the convenient options. Adios, buddy!