Are you a vinyl enthusiast but don't know the best place to buy vinyl records? Don't worry. I am here to offer help. I am a huge fan of vinyl records and own many albums, including White Album and The Freewheelin' Bob Dylan. To ensure you go to a great place while buying a vinyl record, I have compiled a list of the 14 best online vinyl stores. Let's have a look!
Quick Answer
When it comes to buying vinyl records, several factors contribute, including:
Selection;
Pricing;
Quality of records.
Some of the best online record stores, like eBay or Discog, offer various options, including rare and difficult-to-find releases. Moreover, you can also find hidden gems and a more selected collection in nearby record stores and vinyl-focused shops.
But that's only the tip of the iceberg. Continue reading as I will unveil the 3 best offline and 14 online stores. Let's dive deep into it!
Exploring The Local Best Places to Buy Vinyl Records
Obviously, your neighborhood local record store is the best place to buy vinyl albums in person. I remember when my love was crazy for vinyl records. I used to visit my local record stores very often. These modest retreats provide a physical experience in addition to being treasure troves of audible gems.
The following are some places that not only bring nostalgia while buying records but also give top-notch customer satisfaction:
Urban Outfitters – It has all the retro collections as well as new records. It also contains top hits and exclusives from famous singers. The branches in Montclair and Los Angeles are the most famous in the US.
Barnes and Noble – Having about 592 stores in the US, but they are never out of show for brand-new albums.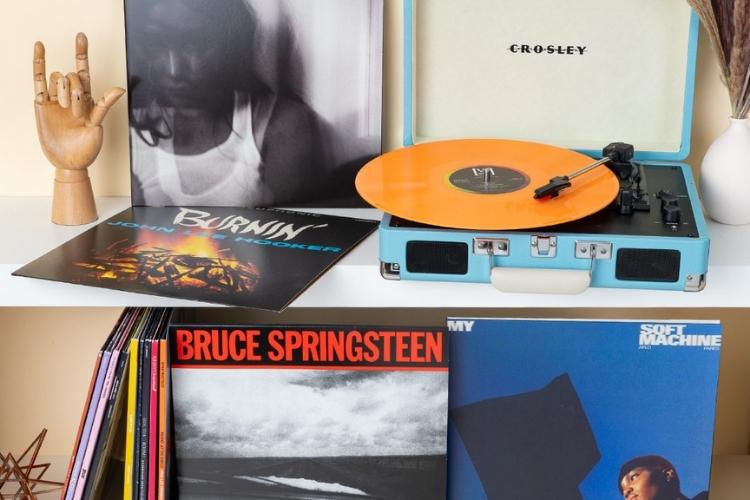 Newbury Comics – This local record store is one of the largest vinyl stores in New York and also New England. They have all sorts of albums, ranging from cheap to expensive. You will surely find your favorite collection there.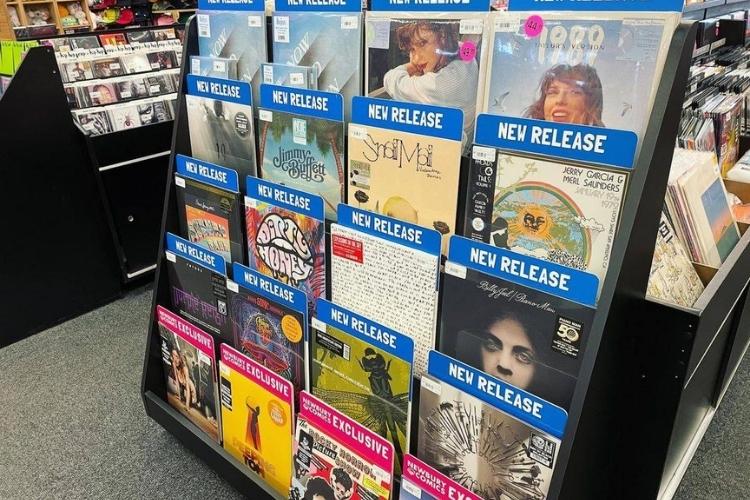 14 Best Online Vinyl Store List
In this section, I have listed the 14 best online Vinyl store that offers the greatest vinyl finds across all genres, formats, and rarities. Let's explore them one by one in detail.
1. Discogs: The Best Online Record Store
The first contender, Discogs is the best online record store is Discogs. It is a vast online database and marketplace for music lovers, vinyl collectors, and sellers rather than a typical online record store. An extensive selection of music is available for you to listen to and purchase, including:
CDs;
Vinyl albums;
Cassettes;
Digital releases.
Here are some features of this record store:
Extensive Database: With over 15 million releases across 8 million artists and 1.7 million labels, Discogs is one of the largest databases of music releases available online, encompassing a wide range of genres and formats.
Market Place: This global online platform lets you purchase and sell used records from international sellers. It also facilitates transactions for both digital and physical music types.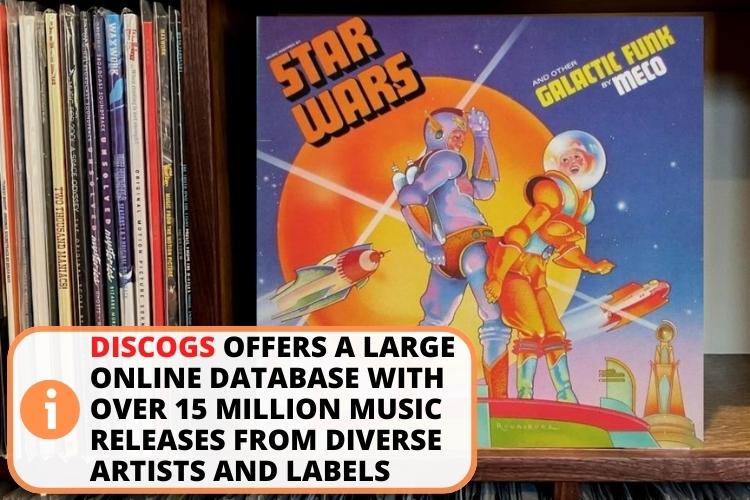 This place is for you if you are a vintage and exciting music fan like me. Furthermore, Discogs offers a wide range of musical genres, such as:
Rock;
Electronic;
Classical;
Hip hop;
Jazz.
2. eBay: Cheapest Place to Buy Vinyl Records Online
eBay, the largest online auction site worldwide, is a good resource for finding rare records. However, before buying, obtain pictures of the record's state. Let's see what features this online store offers!
Search filters: To quickly locate rare records and ensure a successful purchase, you can use search filters to narrow your search by artist, album, year, and more.
Budget-Friendly Vinyl Finds: One of this store's remarkable features is finding a secondhand vinyl record in perfect shape for less than half of what you would pay at a store. I recently paid as little as $2 on eBay for an old vinyl album.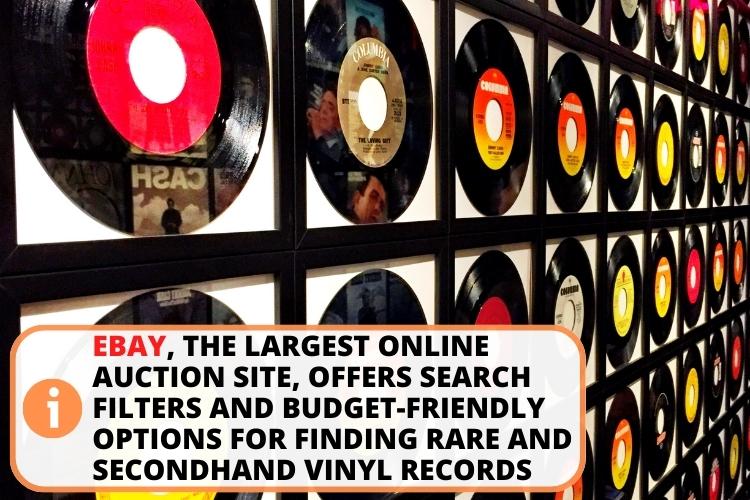 Music genres offered by eBay are:
Pop;
Country;
Rap;
Soul & R&B.
Although I prefer to purchase from physical stores or individual sellers on Discogs, there are situations when eBay is your best option specifically when looking for a rare collection. I found one of my favorites, a 1982 Thriller album there and the purchase was worth it.
3. Amoeba Music: The Biggest Independent Record Store in the World
If you're more of an indie record store fan, then Amoeba Music is one of the biggest independent record stores worldwide. It is a well-known online record store in the US with physical locations in Berkeley, San Francisco, and Hollywood.
One of the major benefits of this platform is that it is still an independent record store. When you browse it, you are thereby getting a particular selection of entries rather than a database containing all of the items that are accessible.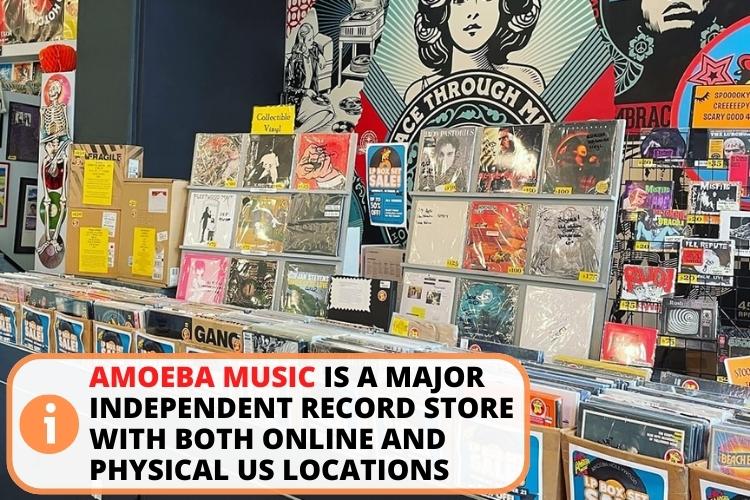 Moreover, it also offers a good variety of CDs in less popular genres, including:
World;
New Orleans;
Celtic;
Underground Metal.
The store also has memberships to the private Amoeba Vinyl Club (AVC), a premium service for music enthusiasts. I have availed this service 6 months ago. Every month, as a member, I got to add a gorgeously colored vinyl record in luxury packaging to my collection.
4. Presto Classical: Classical Vinyl Expert
Presto Music is a fantastic place to start if you're seeking Western Classical music on vinyl and want to keep up with your favorite symphonies' latest releases. One of the features of this store is that you can buy vinyl online immediately and even put more on your wish list for later.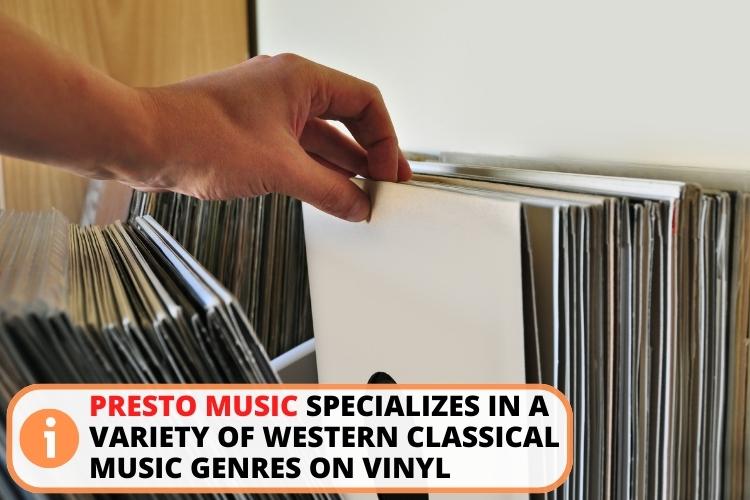 This online retailer has a broad range of genres like:
Orchestral;
Concertos;
Chamber;
Instrumental;
Opera.
I bought one of my favorite records, Dvorak's Stabat Mater, played by the Antwerp Symphony Orchestra & Collegium Vocale Gent from this store.
5. DustyGroove: Fantastic for Reggae, Jazz, and Funk
If you are searching for interesting and rare records, try Dustygroove. It is one of the earliest retailers of vinyl records online, a Chicago-based store that began selling records in April 1996. Let's shed some light on the features of this online store:
It's a terrific place to buy secondhand vinyl online because the website is updated frequently with fresh arrivals.
The store has reasonable prices, and you'll find a special section on this website featuring a great assortment of deeply discounted vinyl records.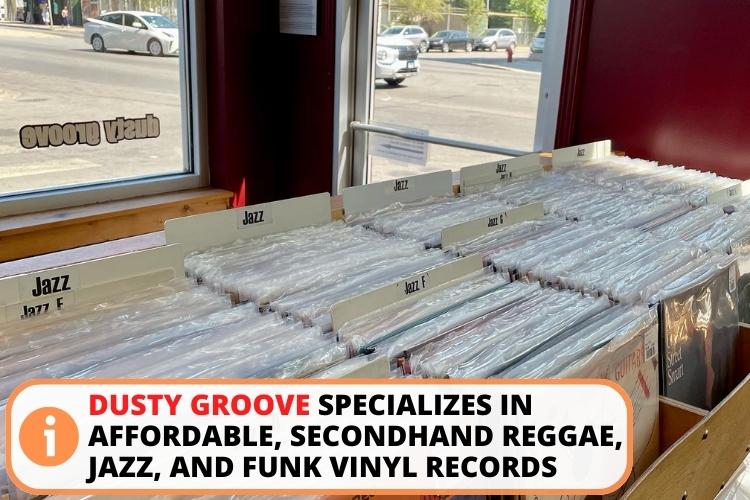 Although Dusty Groove has a large variety of music from all major genres, it also specializes in less well-known genres like:
Jazz;
Funk;
Soul;
Reggae;
Blues.
If your taste in music is anything like mine, you will adore vinyl's cozy sound, particularly while playing deep, bass-heavy songs on it.
6. Amazon: Online Giant Platform
Amazon is a well-known internet powerhouse that will be easily noticed if you want to buy old vinyl. It won't hurt to browse here because, like other internet retailers, they also have a sizable selection of used vinyl albums.
Moreover, it is a well-known company, and you can be certain that the product you're purchasing is reliable. Listed below are some features of this online retailer:
They have excellent shipping and return policies
You can easily search for specific vinyl records using keywords, artists, genres, or other criteria.
Amazon Prime members often have access to expedited shipping on eligible vinyl records which allows for quicker delivery.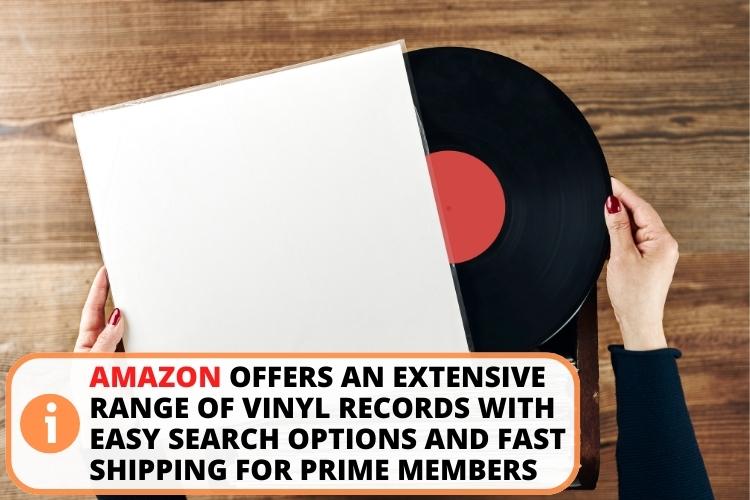 Following are some genres offered by Amazon:
LATIN;
R&B;
Christian & Gospel;
Dance & Electronic.
If you're a vinyl enthusiast in the US, you can also sign up for Vinyl of the Month Club, a new subscription service from Amazon.
7. Boomkat: Unusual Discoveries And The Latest Music
Boomkat is a beautiful online vinyl store that caters to our inner hoarders and DJs by offering rare records at affordable pricing. It is a small online retailer distributing limited-edition music from hand-picked artists worldwide.
One of the best features of the store is that it frequently offers free MP3 downloads with vinyl records to enjoy the music on the go.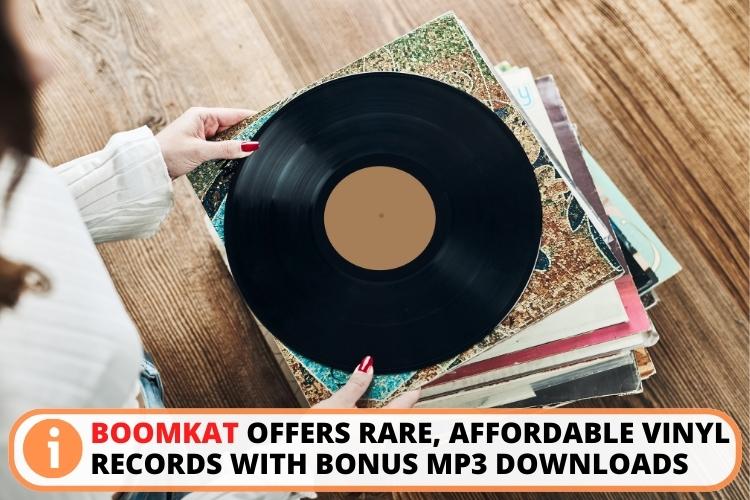 Moreover, Boomkat covers the following genres:
Avant-garde;
Pop rock;
Electropop;
Dance-pop;
Hip-hop.
As we have reached half of our list, I want to highlight one of my favorite quotes that addresses why Vinyls are unique: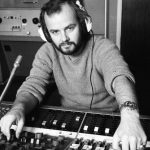 Somebody was trying to tell me that CDs are better than vinyl because they don't have any surface noise. I said, "Listen, mate, life has surface noise."John Peel, Radio DJ, and Music Journalist
Now, let's continue exploring the best spots for vinyl records:
8. Rough Trade
Since its founding in 1976, Rough Trade has been an independent record retailer promoting excellent music. With its prominent online presence in the US and the UK, this online store boasts the following features:
They have high-quality vinyl records with artists like Father John Misty, Mitski, and others.
Not only can you buy vinyl online, but you can also trade in your old vinyl for cash or Rough Trade credit.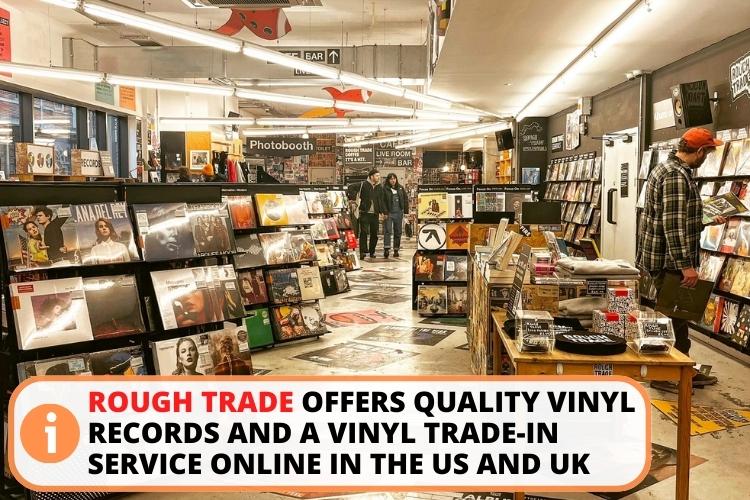 Moreover, Rough Trade offers a wide variety of musical genres to suit a wide range of tastes, including:
Classic;
Bass;
Alternative/Indie Rock;
Experimental Rock.
9. Experience Vinyl
Experience Vinyl is a record club that provides exclusive and uncommon monthly releases without requiring you to commit to a monthly membership. It offers appealing releases that you can choose to buy, but there's no obligation to do so.
Its previous releases include:
A 500-disc limited edition of Eliott Smith's From a Basement on the Hill;
A blue pressing of Leon Russell's self-titled LP;
A red vinyl pressing of Sly & the Family Stone's Fresh.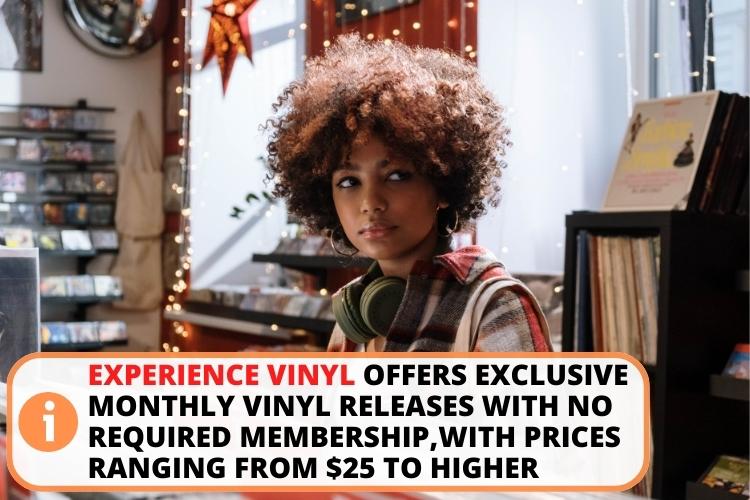 Every month, this list expands and gets remarkably diverse. The price ranges from roughly $25 to hundreds upon hundreds.
10. Tower Records
One of my favorite and nostalgic stores is Tower Records. They have both online and solid physical presence. For decades, this store offered an expansive selection of music and a unique in-store experience.
Let's have a look at their key features:
They have a large and spacious store with wide aisles organized neatly by musical genre.
This store offers a huge inventory of vinyl records, cassettes, CDs, movies, books, and magazines.
Additionally, they also have a helpful, knowledgeable staff who are passionate about music recommendations.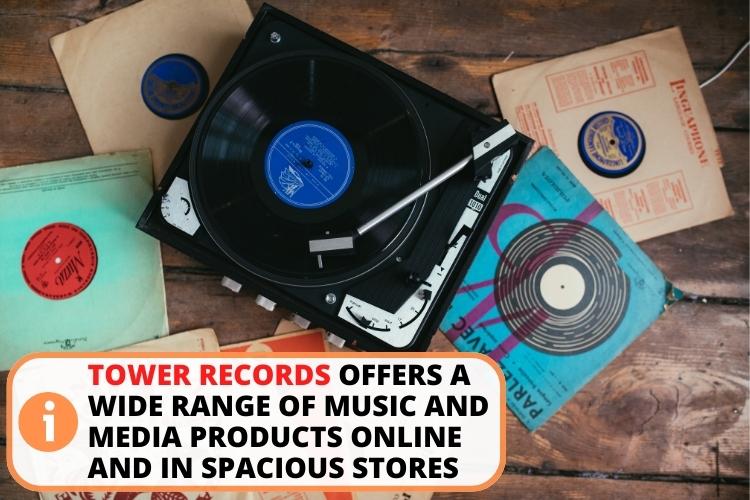 Genres/Categories at Tower Records:
Rock/Pop;
Jazz;
Classical;
R&B/Soul;
Country;
Soundtracks;
International;
Punk/Alternative;
Heavy Metal;
Blues;
Electronic;
Hip Hop/Rap.
11. EIL
If you enjoy European music, you've undoubtedly heard of EIL.com. It is a record store with a rich musical history in the UK.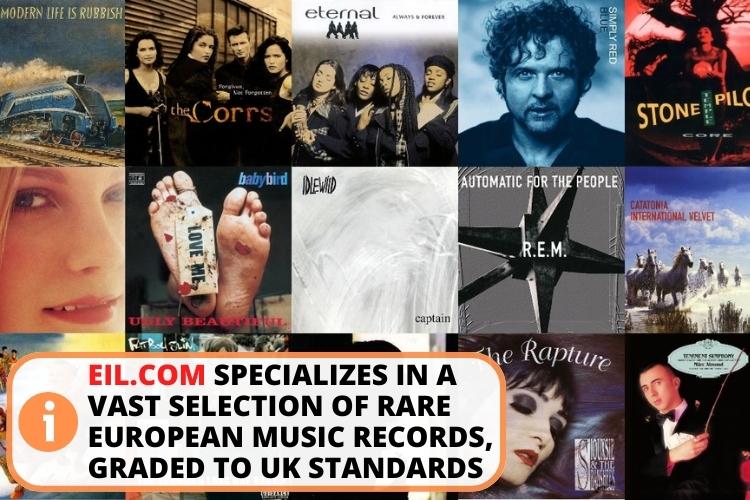 Let's see what features this store offers:
Their records are graded as per the industry standard U.K. Record Collector gradings.
This outlet offers a superb selection of rare European music that might have yet to make it to the United States, with over 250,000 recordings in stock.
Their website is outdated, but as a record collector, I am confident that each item they sell is in superb condition. This website itself claims that:
12. VNYL
VNYL is a record subscription service catering to the modern vinyl enthusiast. With its curated monthly packages, this company aims to match customers with new music perfectly suited to their tastes. Their salient characters include:
Customers can fill out an initial survey about music preferences, and their experts can bring you the vinyl record in a month.
They have an unlimited swap option if customers aren't satisfied with their selections.
They also offer free shipping both ways.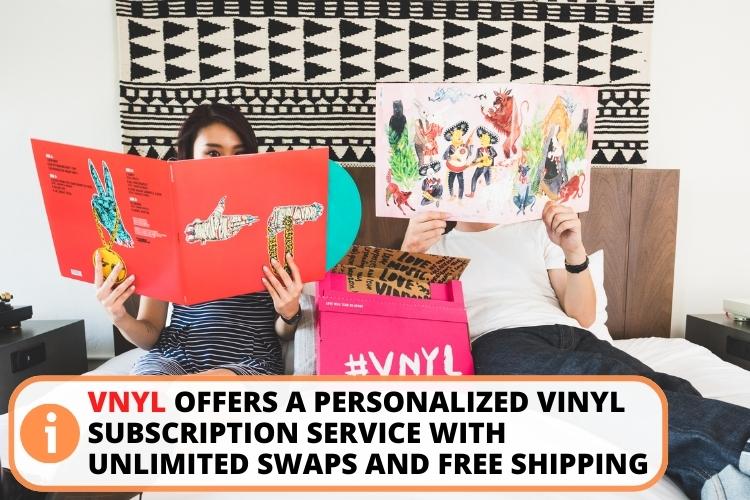 Genres/Categories curated by VNYL:
Indie rock;
Pop;
Folk;
Jazz;
Blues;
Soundtracks;
International.
13. Turntable Lab
Turntable Lab is a contemporary service that targets modern vinyl enthusiasts, whether they are total beginners in the field or possess far greater experience. Some of its features are as follows:
The most remarkable feature of this company is its elegant website, which even non-techies can easily explore.
You can purchase all the necessary items to start organizing and enjoying recordings from here, including turntables, speakers, stands, and amplifiers.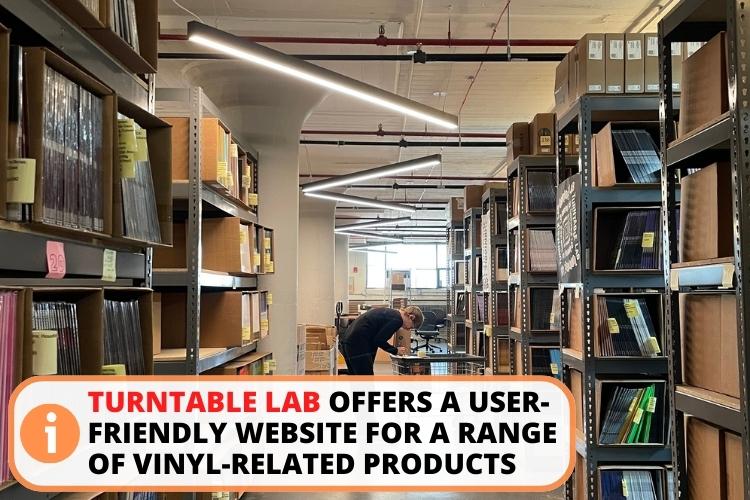 Furthermore, I have listed some of the best records in the genre of turntable music. Let's take a look at them:
Everywhere at the End of Time: Stage 6 by The Caretaker;
Vinyl Coda I-III by Philip Jeck;
La nuit où j'ai dit non by Martin Tétreault;
Memory & Money by Les Sculpteurs de vinyl.
14. How to Get Cheap Vinyls: Find it at Walmart And Target
Lastly, if you are wondering how to get cheap vinyls? you should consider Walmart and Target as they both offer vinyl records at low rates but take different approaches. Here is the breakdown of these 2:
Walmart
Walmart offers many popular new vinyl releases across pop, rock, rap, country, and more genres. However, their focus tends to be on mainstream and chart-topping albums.
Moreover,  the vinyl section at Walmart is not a huge priority, and selection can be hit or miss depending on the individual store. Walmart also stocks a small selection of turntables and audio equipment.
Target
On the other hand, Target has a more curated, indie-leaning vinyl selection while still carrying popular new releases. They focus more on highlighting:
Up-and-coming artists;
Reissues;
Exclusives.
One of the best things about Target is that they emphasize the vinyl buying experience in-store with a section showcasing record players, speakers, headphones, storage, and more vinyl accessories.
FAQs
What is the best site to buy vinyl from?
Amoeba Music and Discogs are the best sites to purchase vinyl records online. Amoeba Music is the largest independent record store in the world, while Discogs offers a comprehensive and global variety.
What is the biggest vinyl website?
Discogs and Tower Records feature the biggest vinyl websites to buy records. They have up to 150,000 independent retailers and offer CDs, vinyl, and cassette tapes. 
What is the best website for vintage vinyl?
Discogs is recognized as one of the best websites for vintage vinyl records. It provides an extensive online marketplace, a comprehensive catalog, and a worldwide group of enthusiasts.
How to get vinyl cheaper?
You must visit thrift stores and online marketplaces like eBay or Discogs to get vinyl records at a lower price. Furthermore, keep an eye out for garage sales and promotions.
What is a reasonable price for vinyl records?
The reasonable price for vinyl records can range widely from $20 to $40. However, the cost of rare or vintage recordings varies considerably depending on their rarity and condition.
Conclusion
Summing up the best place to buy vinyl records online, you can buy your favorite collections from local stores like B&N and Newbury Comics. If you are into top-class vinyl records, it's hard to beat Discog or Amoeba.
For rare collections, eBay and EIL should serve the purpose. Moreover, if you want to experience the most unique genres, Dusty Groove and Experience Vinyl are what you should visit. You can also avail of the membership at Amazon and VNYL to get discounts and get your favorite albums in no time. Nonetheless, all 14 places are worth it and you will have a great buying experience.