Affiliate disclosure: In full transparency – some of the links on this website are affiliate links, if you use them to make a purchase we will earn a commission at no additional cost for you (none whatsoever!). Will this be a problem? This is how we manage to create free content for you. Please know that your trust is so important for us. If we recommend anything, it is always because we believe it is worth exploring. And, buy me a coffee ☕️
The Sony A7riii is an incredible camera that allows you to capture some stunning videos. The only thing that can detract from the video is the poor audio.
Therefore, you need the best microphones to capture crystal-clear audio when filming a video or interviewing.
With so many microphones available for the Sony A7riii today, it's challenging to choose one that produces crystal clear audio.
Finding the best microphone for your Sony A7riii can be difficult, whether you're an experienced YouTuber or a beginner.
You've come to the right place if you're looking for a microphone for your Sony A7riii. This list contains the 7 best microphones for the Sony A7riii for crystal clear audio.
Top 7 mics for Sony A7riii reviewed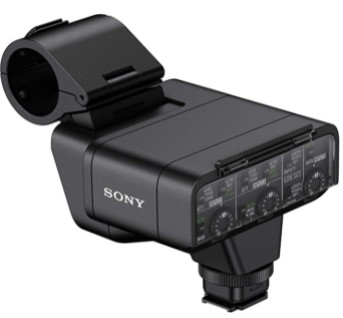 The Sony XLR is another excellent contender to pair with your Sony A7riii. However, it differs from its competitors because it includes a wireless digital interface for converting analog audio to digital audio.
Build design
The Sony XLR has two XLR and two TRS connectors with condenser microphones if necessary. It's flexible, compact, and lightweight.
The mic also has a hinged design frame for stability while filming videos.
The Sony XLR has a low-cut filter switch, my favorite feature. So you can get rid of any unwanted noise in this manner without breaking a sweat.
Connectivity options for camera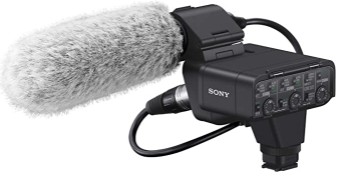 Because the Sony XLR microphone has two XLR/TRS combo connectors. You can use them as line or microphone inputs or with microphones powered by +48V phantom power.
This device also includes a 3.5mm stereo mini-jack connecting to your line and mic inputs. You can use these inputs to record audio from other line inputs, such as musical instruments.
The best thing about the Sony XLR is that once you connect the audio level controls for inputs 1 and 2, you can adjust the level simultaneously, making stereo recording easier and more precise.
The Sony XLR-K3M also includes MI Shoe audio extension cables connecting to your Sony A7riii.
Sound quality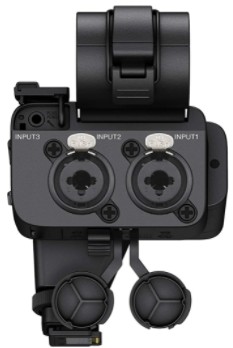 The Sony XLR-K3M XLR Adapter Kit produces a remarkably crisp, clear sound thanks to a solid XLCR connector and TRS that reduces low-frequency vibration and mechanical noise, both of which are annoyances for most videographers. The XLR's plate mount also ensures that there is no impedance.
The Sony XLR doesn't require much power. Because it's multi-shoe compatible (MI), you can easily power it with your Sony A7rii.
Pros
Uses XLR and TRS
Cancels mechanical and noise
Comes with a digital interface
Powered with camera
Easy to mount
Cons
Bottomline: The Sony XLR-K3M XLR Adapter Kit is ideal for videographers who need more versatility and flexibility while creating content on the go. This device has an excellent mount and connectivity. In addition, it's lightweight and portable.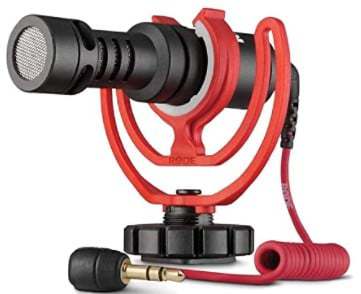 Build design
The Rode VideoMicro is a portable, lightweight microphone. It has excellent build quality and a suspension system to protect the microphone from jarring noises and wind.
In addition, the windshield is helpful in windy conditions. Overall, it's an excellent choice for anyone looking for a small, high-quality microphone.
This microphone has many handy features, including a knob on the back that allows for proper gain adjustment.
Connectivity options for camera
The Rode VideoMicro monopod microphone is the ultimate in professionalism. This video camera mic connects to your Sony A7rii camera via a 3.5 mm jack.
There is no need for mounting or wiring; follow a few simple steps that take only seconds, and you are ready to record clear, crisp audio using its ultra-directional polar pattern.
Adjusting the Rode VideoMicro directional, along with its standard plug-in cord, helps users avoid shaky video and feedback rings, resulting in more precise sound.
Sound quality
When recording video on your DSLR, video camera, or smartphone, the Rode VideoMicro dramatically improves sound quality and clarity.
Rode has packed all of their years of experience into an affordable mic that's tough as nails.
This mic is packed with great features like its unique "throat" design and omni-directional pickup pattern to help reduce background noise.
The best thing about this mic is its wide frequency response.
The Rode VideoMirco is a small but versatile video microphone ideal for all-purpose use. This compact microphone fits Sony A7rii cameras and features blue backlit buttons and status lights for easy operation.
Pros
Comes with a shock mount
Works with a variety of devices
Works with a single 9V battery
Cons
Bottomline: Because it is powerful, simple, and inexpensive, the Rode VideoMicro is ideal for professionals and beginners. So, if you're a videographer who likes to tell stories and create memories on the go and a budget with the Sony A7riiI camera, the Rode VideoMicro is for you.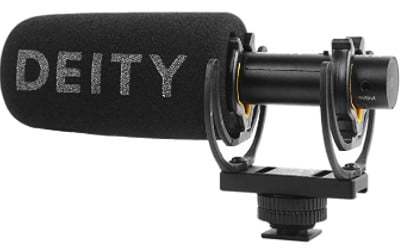 The Deity V Mic D3 is a super-cardioid directional microphone designed to reject sound from behind the microphone while improving speech intelligibility from the front.
It's an excellent choice for dramatic on-camera work, broadcast, and theatre.
It's a favorite among videographers looking for a well-balanced sound. The Deity's best feature is its excellent gain knob on the back of the device, which allows you to adjust the gain to get a crisp sound smoothly.
Build design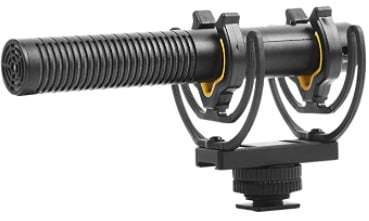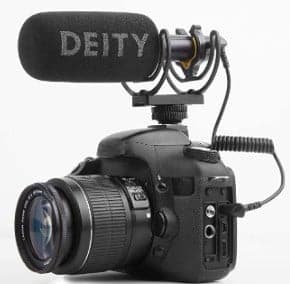 The Deity V Mic D3 has an aluminium metal body that is lightweight and durable.
The D3 is a dynamic microphone designed for professional or home recording enthusiasts who want high-quality audio.
It also has an Intelligent Power On/Off feature. The Deity was created with the user in mind, making it simple to use right out of the box.
Connectivity options for camera
The V Mic D3 has a 3.5mm microphone output and is compatible with the Sony A7riii camera.
You can connect this intelligent microphone line directly to your camcorder. And you don't need to do any level adjustments or anything like that when you're recording. It is simply plug-and-play.
Sound quality
The Deity V Mic D3 is the best-selling microphone for one reason: Excellent audio quality. The V Mic D3 may be small, but it offers outstanding performance and sound quality.
This microphone has a tough, all-metal casing that provides incredible durability and high-end sound quality for the price.
In addition, its cardioid pickup pattern responds to only one direction of the sound. So whether you're singing or speaking, the V Mic D3 produces a clear and smooth sound.
Pros
Amazing build quality
Excellent design
Small and portable
Great battery life
Cons
Doesn't have a great captivating touch
Bottomline: If you intend to use your Sony A7riii camera for interviews and vlogs, whatever the case, the Deity V Mic D3 is an excellent choice. It is best suited for beginners, YouTubers, and film students.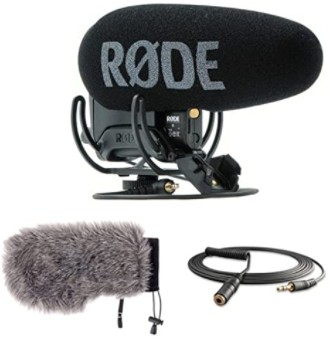 Rode's VideoMic Pro Plus is a professional microphone with a Rycote Lyre shock mount ideal for capturing audio from DSLR cameras.
This external microphone has a high-quality super-cardioid pickup pattern that reduces noise and distortion by reducing off-axis audio and distortion.
My favorite thing about this mic is its rechargeable battery, auto-on/off feature, and high-pass filter to help you cut out unwanted frequencies, especially the rumble in the low end.
Build design
The Rode VideoMic Pro Plus is also very durable and is shock-resistant, which makes it ideal for shooting on the go.
The Rode VideoMic Pro Plus is also very durable and is shock-resistant, making it ideal for shooting on the go.
The Rode VideoMic Pro+ is a lavalier-type microphone with a windscreen and clip protecting the sensitive mic from the air.
As you know, the wind is a menace while filming because it causes unwanted pops and bops.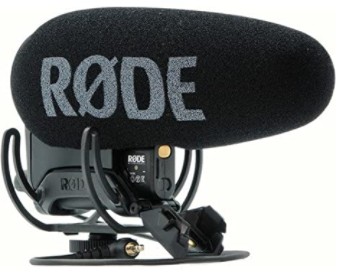 Fortunately, this mic has a built-in on/off switch, so it's ready to go as soon as you turn on your camera. In addition, the microphone will work in any orientation, which means you can put it on quickly without adjusting the position.
It also has a capsule that lowers noise and increases sensitivity. And it comes with a shoe mount that makes mounting on the Sony AS7iii easier.
Connectivity options for camera
This mic also comes with a rechargeable battery, a detachable 3.5mm TRS cable, and a Micro USB cable. You can connect the VideoMic Pro+ to your Sony A7riii via a jack or a USB.
Sound quality
This mic includes a professional-grade microphone, similar to those found on film and broadcast sets, as well as excellent audio processing.
You also get a headphone output to listen to the sound as it is being recorded.
Because of the automatic level control, you can set up and begin recording without adjusting any audio settings.
Thanks to the shock mount, low noise levels, high sensitivity, and integrated windscreen, the sound quality is excellent.
Pros
Rechargeable battery
Excellent foam windshield
Compatible with camera and smartphone
Cons
Bottomline: For both professionals and beginners who like to film on the go, the Rode VideoMic Pro Plus is an excellent mic to use with the Sony A7riii. You should add it to your arsenal mic if you're a YouTuber or a videographer who likes to film outdoors.
The Sony ECMGZ1M Gun/Zoom microphone is another excellent choice to use with your Sony A7riii camera. My favorite feature of the Sony ECMGZ1M Gun is that you can power and control it directly from your phone or Sony A7riii.
Build design
The Sony Zoom Mic has a different build than previous models, with a nearly two pounds lighter body.
Sony engineered its zoom lens and megapixel imager to provide high quality at any distance.
It has two modes of operation: the zoom mode and the gun mic mode. During a zoom video call, the zoom mic mode automatically adjusts to match the position of your camera and ignores background noise, whereas the gun mic mode records directional audio.
Connectivity options for camera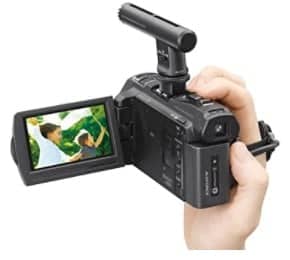 This mic comes with a multi-interface shoe, so it's simple to mount on your Sony A7riii.
Sound quality
With the versatility of two recording modes, you can enjoy exceptional sound quality and recording flexibility. You can also record in X LOUD mode for distortion-free volume even at high volumes.
This microphone also includes a windscreen to reduce background noise.
Pros
Works with multi-interface shoe
Hot shoe powered
Excellent recording
Lightweight
Cons
Bottomline: If you want a versatile recording at a low cost compatible with your Sony A7riii camera, you should get your hands on this Sony ECMGZ1M. It is ideal for professional and amateur videographers who enjoy shooting on the go.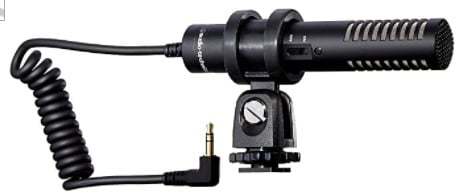 Sick of using your Sony A7riii's internal audio for your videos? Upgrade to the Audio Technica PRO for crystal clear sound.
They designed this excellent microphone to fit your camera perfectly and provide you with the best stereo sound you've ever heard.
Build design
The Audio-Technica Pro 24 CM is a tough and portable camera ideal for on-the-go videographers from all walks of life.
This semi-open back design is lightweight, with rugged metal construction. It's intended for videographers looking for an affordable camera mic with outstanding sonic performance and first-class sound quality.
The best thing about this mic is its noise-cancelling feature. So you can expect excellent feedback rejection.
It also includes a dual input 3.5 mm Mini-phone stereo connector with a screw-on locking ring to withstand road wear and tear.
Connectivity options for camera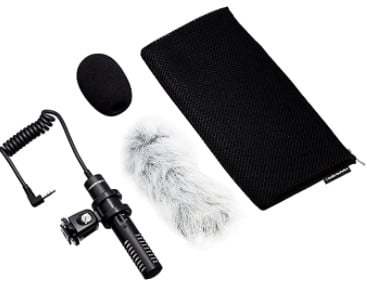 This microphone comes with a coiled cable that is permanently attached and a 3.5 mm mini-phone stereo connector. It also has a switchable mic/line input with gain control built-in.
The low-frequency bass roll-off is another feature that makes the Audio-Technica Pro 24 CM stand out. This feature comes in handy if you like to eliminate unwanted low-end frequencies.
Sound quality
This high-quality model has a broad frequency range of 100–17,000 Hz, high acoustic sensitivity, and extreme SPL( sound pressure level) handling capability.
The cardioid pickup condensers provide excellent feedback rejection and a noticeable presence boost. When receiving sound from the front or back, the quality remains the same.
Power requirements
The power requirements for this mic model aren't ridiculous because your Sony A7riii can power the microphone. Aside from that, it comes with a camera mount so you can connect your camcorder and get started.
When your camera's battery is low and can't power it, you can replace it with a 1.5V LR44.
This microphone also includes a protective pouch and a windscreen.
Pros
100- 17,000 Hz
Portable
Light design
Powered by camera and battery
Excellent stereo sound
Cons
Bottomline: The Audio-Technica PRO24-CM is an excellent microphone with an out-of-this-world stereo experience and capture to use with your Sony A7riii. And it's portable, making it ideal for videographers who like to work on the go.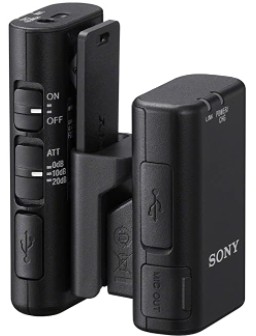 Another great mic you can use with your Sony A7riii is the Sony digital Bluetooth wireless mic.
Build design
If you want a high-quality microphone for your Sony A7riii, the Sony digital Bluetooth wireless microphone ECMW2BT is the way to go. It's built to last and is extremely simple to use.
The construction is fantastic, with a sturdy design that gives the impression: they built it to last.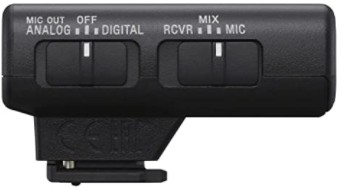 The microphone comes with a USB transmitter (which you can insert into the mic for storage) and an adapter for the transmitter's power source.
This mic is small and lightweight, and it comes with lithium batteries. This microphone is well known for its long battery life of up to 7 hours.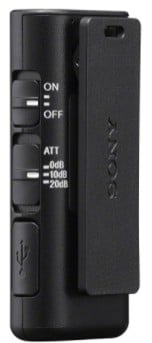 Connectivity options for camera
Connecting this mic to your Sony A7riii is a piece of cake because you can easily connect it with a 3.5mm Audio jack to your camera device, PC, or laptop.
Sound quality
It's a joy to use the Sony ECMW2BT Bluetooth wireless microphone. It has excellent sound quality and digital audio of high quality. In addition, the polar pattern of this microphone is omnidirectional, and it has an audio sensitivity of up to 20 dB.
The best thing about this microphone is that you can use it in three modes: the mic, mix, and receiver.
They allow you to operate the device efficiently with simple controls. You can never go wrong with this microphone because they designed it with cameras like the Sony Mi Shoe in mind.
This microphone also features Stable Bluetooth audio wireless communication, which provides high-quality digital audio for wireless applications such as conference calls.
Wrap up: Our top 3 picks
You've got it now. With these seven Sony A7riii microphones, you can easily record crystal clear audio anywhere.
While some are more beginner-friendly than others, they all provide excellent value for money. With these mics, you can get your career off the ground, whether a beginner or professional filmmaker, YouTuber, or vlogger.
After seven rounds of voting, here are our top three picks for the best microphones for Sony A7riii.
The Sony XLR-K3M XLR Adapter Kit is the winner. It's an excellent microphone for the Sony A7riii because of its superb features, as previously mentioned.
The full-size XLR connector provides an uncompromised connection to your camera. Add with the noise cancellation and excellent audio quality; you've got yourself a fantastic microphone for your A7riii.
The RodeVideMicro is the second-best mic we recommend because it is ultra-compact, lightweight, and portable, with excellent sound quality and noise reduction.
The third microphone we recommend is the Deity V Mic D3, which has a high build quality and is ideal for mobile videographers who like to vlog outside. It produces high-quality sound and, because it is a directional microphone, it doesn't pick up the background noise.
Hi, I'm Jennifer I'm a passionate singer and an audiophile from Detroit, MI. 
I'm on a mission to help music creators to create fine music that help them position uniquely in the saturated music space.
Follow my blog for regular content :-)