Affiliate disclosure: In full transparency – some of the links on this website are affiliate links, if you use them to make a purchase we will earn a commission at no additional cost for you (none whatsoever!). Will this be a problem? This is how we manage to create free content for you. Please know that your trust is so important for us. If we recommend anything, it is always because we believe it is worth exploring. And, buy me a coffee ☕️
Today in this post I am presenting you Alctron PF8 vs Kaotica Eyeball review.
Sound reflections, echoes, and unwanted noises from a bad recording environment are the enemies of high-quality recording for podcasters, musicians, bedroom producers, and anyone who works with audio.
That's why professionals recommend you install acoustic panels, acoustic shields, or sound[proofing panels. But what if you cannot afford them?
There is a cheaper alternative solution.
The best way to deal with sound reflections in your studio or bedroom studio is by getting a sound isolation vocal booth.
An isolation booth is crucial because it will improve the quality of your recording by filtering out unwanted noise, plosives, noise floor, and wind ambiance.
Alctron PF8 vs Kaotica Eyeball are well-known isolation booth brands you can buy. But which one is superior? Which one should you add to your arsenal?
This review will compare the Alctron PF8 and Kaotica Eyeball head to head in a 4-round match to see which one comes out on top. We also throw in some similarities and differences, so read on to the end.
Alctron PF8 vs Kaotica Eyeball
Build and design
The Alctron PF8 is a solid, flexible, and portable mic windshield. You can use it in the field or in the studio. It is easy to set up and doesn't take up too much space.
The soft foam used is dense yet still flexible enough that it won't break easily, allowing you to position it however you want on your mic.
The design makes it easy to set up and pack down and allows you to store it without taking up too much space.
The Alctron PF8 has a sturdy construction and feels built to last. Meaning you can use it indoors and outdoors. It also comes with a case to protect the foam.
The Eyeball looks like an alien spaceship and comes in two color options. Just like its name suggests it is round and it looks like a ball.
The Kaotica Eyeball is well built for both indoor and outdoor use. Although it's bigger than its counterpart, the Eyeball is also small and will not eat up much of your space.
Both these products come with pop filters so don't worry if you have none. The filter that comes with Alctron PF8 is detachable, so you can remove it and use your own.
Set up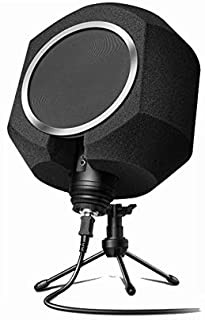 Setting up the PF8 is a simple process. You need to attach it to a mic stand and position it around your microphone. However, the process might get complicated if you need to set up your mic with a shock mount.
Setting up the Eyeball is even easier because it doesn't involve any hardware. All you have to do is slide the mic into the opening at the bottom of the foam, and you are good to go. The foam also makes it easier to slide in the entire microphone without difficulties.
The Eyeball's adapters fit the most popular microphones on the market today, including Neumann TLM 103s, Bluebird SLs, SM7Bs, and much more.
The Alctron shock mount is pretty standard and features a 3/8″ thread that will work on any standard microphone stand. The Chaotic Eyeball has two elastic bands that help keep it in place on top of your microphone, but you could also use it as a shock mount if you want to keep it from moving around.
Both brands are easy to set up.
Pop filter design and isolation
The two pop-filters were designed with the same end goal in mind, to isolate a vocal mic from plosives and other undesirable elements. Both filters achieve this goal very well, but they achieve it in two very different ways.
The Alctron PF8 uses a dual-layer approach, with a relatively rigid grille backed by a flexible nylon mesh. This creates an air pocket that absorbs plosives and other unwanted sounds.
It's also worth noting that Alctron has used foam to dampen vibrations on the mounting arm. The Alctron is great for both small and larger microphones.
By comparison, the Kaotica Eyeball is incredibly unique in its design. It's shaped like an eyeball and features a large internal chamber (no foam or mesh) for absorption. It also has a rigid outer shell which ensures that no sound can get through from the sides or behind the filter.
The Eyeball is arguably one of the most effective isolation filters on the market, but it's also one of the most expensive.
Portability
The Alctron PF8 is a portable, microphone pop filter. The shape of the filter and its smaller size makes it portable. If your studio setting is ever-changing, this can become a massive advantage for you.
The Kaotica Eyeball is also portable but slightly larger than its counterpart. It will also fit into your backpack so that you can take it with you to any location. But since the Eyeball does not have a detachable frame, it might not be as easy to set up as the PF8.
[The Kaotica Eyeball is bulky and will take up more space in your bag. You can still travel with it, but it won't be as convenient as the Alctron mic.]
Similarities and differences of Alctron PF8 vs Kaotica Eyeball
Both pop filters are made from acoustic foam.
Both offer excellent sound isolation.
You can use them indoors and outdoors.
The Alctron PF8 has a hexagon-like design, whereas the Kaotica Eyeball is spherical.
The Alctron PF8 connects via a gooseneck arm, whereas the Kaotica Eyeball slides over top of your mic.
The alctron PF8 is smaller, lightweight and more portable than the kaotica eyeball which is more dense hence heavier.
The Alctron PF8 has a detachable pop filter unlike the Kaotica Eyeball.
Wrap up
The last determinant you should consider for these isolation booths is the cost. The Alctron PF8 is cheaper than the Kaotica Eyeball.
However, if you want to record vocals at home or on location, and you cannot afford acoustic treatment, one of these systems will help you improve the quality of your recordings by a significant margin. Thanks to their excellent noise reduction.
You now understand everything there is to know about Alctron PF8 and the Kaotica Eyeball. We have discussed them in terms of build and design, portability, set-up, isolation, similarities, and differences. These factors will aid in the selection of one of the two.
Which is your favorite isolation booth?
Let us know if you have the Alctron PF8 or the Kaotica Eyeball in the comments section below.
Hi, I'm Jennifer I'm a passionate singer and an audiophile from Detroit, MI. 
I'm on a mission to help music creators to create fine music that help them position uniquely in the saturated music space.
Follow my blog for regular content :-)